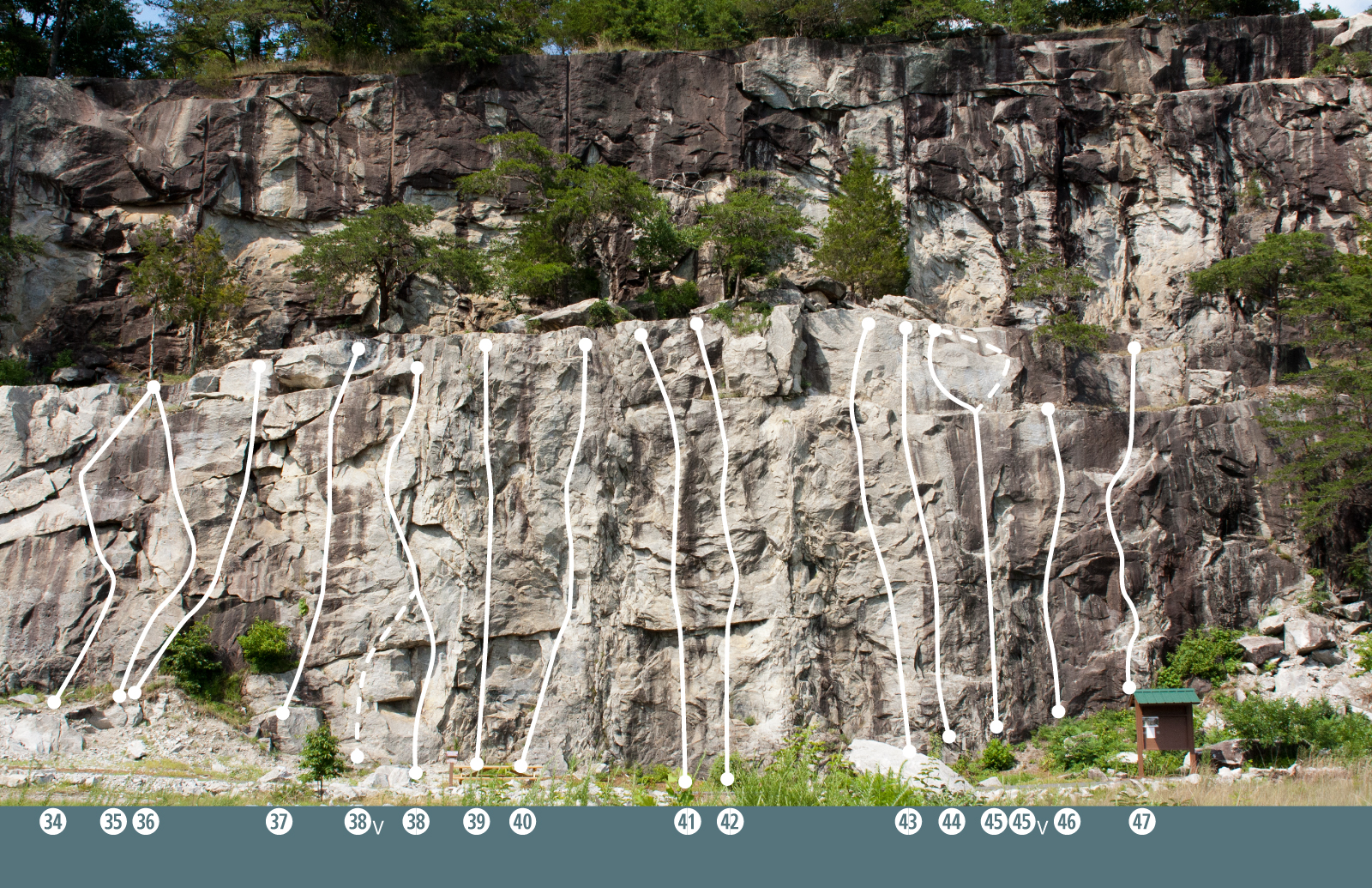 Rocky Face – Bottom Ledge
This area can be accessed from the bottom of the quarry.
Routes:
34. Gateway (5.4) Top-Rope-Climb fractured corner up to the right and then arch back to the left. Either step out left into a pocket and straight up into a left facing corner or stay right and traverse back to the corner.
35. Gateway Direct (5.6) Top-Rope-Completely separate line from Gateway. Starts to the right on small ledges and climbs straight up to the anchors.
36. Dirty Chimney (5.5) Top-Rope-Depending on how wet the bottom is, either start at Gateway Direct or Left of Time and move up into large blocky flakes and an obvious chimney. Climb up through the chimney.
37. Left of Time (5.7) Top-Rope-Just Left of Flight Time at a nice crack/flake system that continues to the top of the buttress. Very obvious natural line chains at the top.
38. Flight Time-(5.7+) Top-Rope/Sport. Start on good flakes and then bypass the small roof on the right before working back left to the massive drilled hole. Make sure to look down into the hole and continue up and left before moving back right through a weird move and gaining the anchors.
39. Black Hole (5.10+) Top-Rope/Sport. The crux is pulling the low roof. An easier variation climbs right of bolt #2. Continue on good holds to an undercling. Make some long reaches to jugs then solve the second crux before arriving at the anchors. (F.A.—Steve Pope Top rope; Ryan Beasley 1st lead Feb. 22, 2014)
40. Mr. Aidmans Free (5.11a) Top-rope/Sport. This route is a little more straightforward than its neighbors but is also more powerful and pumpy. Climb slightly overhanging rock on good holds that lead to a powerful move into an undercling. (FA–TR Diab Rabie; 1st lead-Steve Pope, Phil Bennet August, 1988)
41. Double Roof Ballet (5.11b) Top-Rope/Sport. The start is often wet and requires climbing through rotten rock to avoid the wetness. Awkward climbing through several roofs/buldges lead to a dead point move near the top. (FA-TR Steve Pope; 1st lead-Joe Harvey 1980's)
42. Hardman (5.11b) Top-Rope/Sport. Fun technical face climbing with interesting sequences and bigger moves. (FA-Steve Pope and Steve Bennett February, 1989)
43. Quickdraw (5.11c) Top-Rope/Sport. This route is fun and has a nice flow once you figure out the beta. This route is hard to read from below. (FA—TR-Ben Dunlap; 1st lead-Steve Pope March, 1991)
44. Crimps and Slopers (5.10b/c) Top-Rope/Sport. The crux is at the start of the route. A power move from good edges to a jug. Then technical balance moves to the anchors. (FA—TR Steve Pope 1980's; 1st lead, Ryan Beasley Jan. 19, 2014)
45. Blast in Black (5.9+) Top-Rope/Sport. Climb a broken corner to some interesting mantling moves. Crux is at the fourth bolt. Middle section of cliff just right of steeper sport routes, Climbs through the darker rock. (FA-Johnny O'Connell and Travis Mabe Feb. 11, 2013)
46. Quarryisms (5.10c/d) Top-Rope/Sport. Navigate pass an awkward section to a good stance. Next reach up to find something before reaching the anchors. (FA—Jenny Allen and Ryan Beasley)
47. Ramped Up-Top-Rope. Not open at this time.